◆ Carbide Wear Parts
Tungsten Carbide or Hardmetal is really a kind of alloy that give you surprise, after so many years of innovation, many grades were developed to cater to the demand of many Industries.

Thanks to so many years of experience and the high accuracy of our machines, we are now almost able to make any types of Carbide Components ( wear Parts) we meet, they have started to reply on Rydmet Carbide's Carbide Wear Comnponents and Wear Parts.
We like to provide the professional solutions for our clients through the satisfied products and service.
Besides the traditional Carbide Seal Faces,Rings, Sleeves, Bushings, Nozzles,Valve Part, Balls, our Engineering Team are always willing to challenge themselves in making irregular Carbide Components and Parts.
The following is some of our Tungsten Carbide Components/Wear Parts we make usually, usually: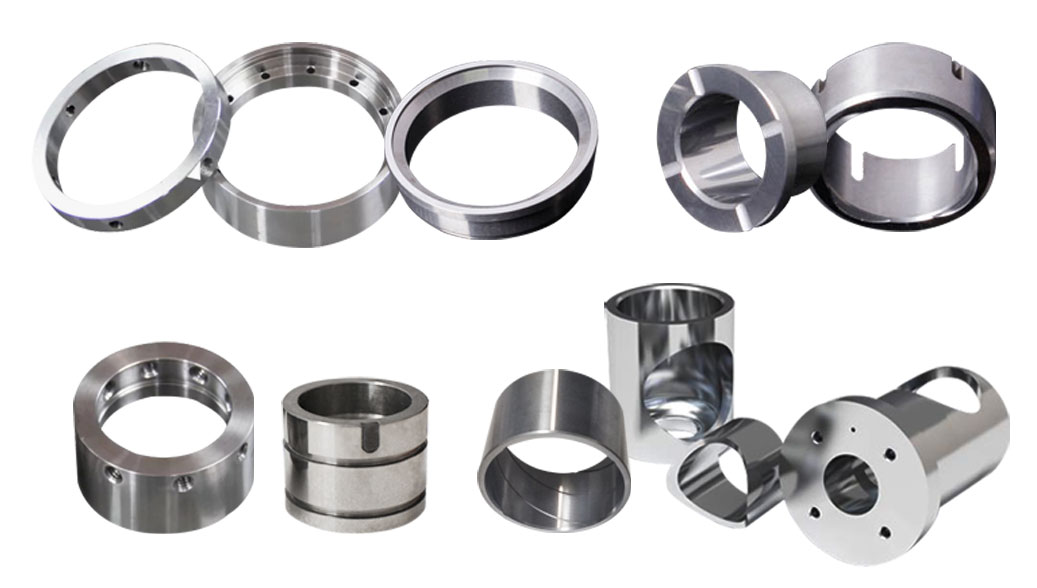 ●Tungsten Carbide Bushings

●Carbide Sleeves for centrifugal pump
●Tungsten Drill Guide
●Carbide Mechanical Sea Faces
●Carbide Shaft Sleeves
●Carbide Plugs
●Carbide Sandblast Nozzles/Liners.
●Carbide Valve Balls.

●Tungsten Carbide Valve Seats and Stems
●Tungsten Carbide Oil and Natural Gas Wear Parts and Components
●Tungsten Carbide Nozzles
●Tungsten Carbide High Pressure Pump Components
●Tungsten Carbide for -Flow Restrictors
And some irregular carbide components from our clients that we can not name and don't know what is the application at all.

According to the specific Application, the Carbide Wear Parts, Components can be available both in Cobalt and Nickel binded Grade.